2024
July 20th > August 6th
Retour
History
Marciac, a small fortified town founded at the end of the 13th century. Today a rural community of some 1200 souls nestling in the green heart of the Gers, half way between Auch and Tarbes. With its village square which has preserved the medieval arcades, its lake where people can be seen wind-surfing and its church, which has a spire the local people are proud to boast of, it being the tallest in the region. And, every year for the fortnight leading up to the 15th August, a giant marquee set up on the rugby pitch, festive streets, thousands of visitors assembled to celebrate music: it's Jazz in Marciac, a festival with a difference, known well beyond the national frontiers.
With its inauguration in 1978 thanks to the efforts of a handful of music lovers, this festival, which was initially based on traditional jazz, brought New Orleans style jazz bands together around Claude Luter. Progressively it became longer and varied the offer through the tireless work of Jean-Louis Guilhaumon, head of the local secondary school and skilled strategist of a team of volunteers which grew in number each year. The Golden Gate Quartet played here, then Bill Coleman and Guy Lafitte, who had come as neighbours and who would later be honorary presidents of the festival. With its growing success and people coming from all over Europe, Jazz in Marciac started inviting French and other musicians from all over the world, often on exclusive contracts. These included international stars of the calibre of Lionel Hampton, Dizzy Gillespie, Stan Getz, Oscar Peterson, the Modern Jazz Quartet, Stéphane Grappelli, Michel Petrucciani, Sonny Rollins, Gerry Mulligan, Herbie Hancock, Keith Jarrett and Wynton Marsalis, to mention just a few of the most prestigious names. To this list we can add the best Gospel groups such as The Sensational Nightingales and The Barrett Sisters. That Jazz in Marciac has become one of the biggest and most popular festivals in Europe, and THE August date, in just a few years, attracting an ever-growing international audience, is due to several factors which one will not find elsewhere. Jean-Louis Guilhaumon, who became the mayor of Marciac a few years ago, together with his team of volunteers, has been able to convince the local population, itself no mean feat! The local community lives to the rhythm of jazz during the festival: shopkeepers, restaurant-owners, B&Bs, everybody takes part one way or another in the swinging feast! Every willing hand (and there are many of them) is necessary, so that the festival can run smoothly.

The marquee seats 5000 people for the "prestigious" evening concerts, but many more people spend time on the "Off" festival; all day long the whole village is the scene of a myriad of activities: free concerts on the square, art exhibitions, films, a market for local products, and stands selling craftwork from further afield, not to mention the cafés and bars on every pavement. There is a real village fête atmosphere, centred around jazz, which attracts more than 100,000 visitors a year. One of the trade marks of Jazz in Marciac is the top quality programming. No leeway is given to passing fashions, there is no room for popularity ratings. The festival is not an overnight bag where you find only what you know and love; the aim is to teach, to widen horizons. Jazz, of all genres, related forms of music, but no compromise. Over the last few years blues, rhythm'n'blues and soul have appeared, with well-known names such as Lucky Peterson and Maceo Parker, and Latin jazz with Tito Puente, Irakere or Ray Barreto, and the festival has featured the most avant-garde artists, from Ornette Coleman and Michel Portal's free jazz to Joe Zawinul's world music, thus reacting to an ever-widening public. But quality is never sacrificed, remaining faithful to the roots: evenings consecrated to traditional jazz in the magical location of the bullring, a second stage for the festival, which features the brass bands, blues and salsa formations. One other ritual at Marciac is the tradition of the 15th August gospel mass, not to mention other negro spiritual and gospel concerts which are held in the 13th -14th century church. Gascon hospitality, warm and uncomplicated, means that this festival is like no other, that it has developed a unique character and an international reputation for itself and for the Marciac area. Gascon specialities, its foie gras, confits and magrets, washed down with the local Côtes de Saint-Mont wine, followed, if the pleasure tempts you, by a glass of armagnac, certainly add to the quality of the welcome reserved for people who come here. The relaxed atmosphere, light-hearted and often irreverent, in the best jazz spirit, delights public and musicians alike. Many are those, even among the world-famous stars, who ask to be invited to play, or ask to be invited back to play Marciac. They feel at home here: Wynton Marsalis, who fell in love with the place, and has become an emblem of Jazz in Marciac, plays a quick game of basketball with the village kids before gong off to give a master class, another pleasure, in the impressive auditorium of the collège. The organisers had the perspicacity to see that the festival couldn't remain a once-a-year meeting, no matter how prestigious it may be, but that it had to be the crowning event of an activity which was permanent; this was the first step in a huge project which aims to make Marciac a major cultural and tourist centre in the Midi-Pyrénées region. For the last few years concerts have been held at monthly intervals, from October until June, with top names playing. These concerts are linked with weekend courses open to amateurs who want to improve their musical skills, courses which are led by renowned musicians. This is a follow-up to the creation of the first-ever jazz section in a state school in France: pupils are introduced to jazz music, as part of their curriculum, from the age of 11. Indeed, such has been its success that it was recently awarded a "Victoire du Jazz" honour, confirming Marciac as a leader in its domain. In addition, there is the " Territoires du Jazz " museum, an astonishing creation which uses up-to-date audio-visual technology to take visitors on a tour through the universe of Black American music. All of these elements make Marciac a place that "it's worth going out of your way for". For the love of music, for the tourist attractions, for the food, for the experience!

Jacques Aboucaya revisited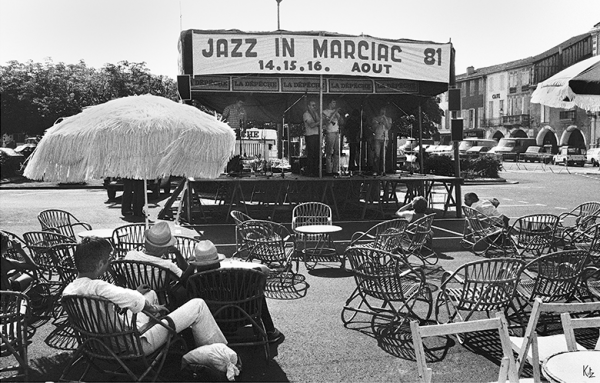 © Kitz