2022
July 22nd > August 6th
Retour
Jeff Beck invite Johnny Depp
Jeff Beck, l'un des meilleurs guitaristes de tous les temps, dixit le magazine Rolling Stones, honore pour la première fois Marciac de sa présence. Et, cerise sur le gâteau, il partagera l'affiche avec Johnny Depp, à l'occasion de la sortie d'un album en commun. 
Le légendaire guitariste Jeff Beck a connu l'une des carrières les plus influentes de l'histoire du rock. Le blues, le heavy metal, le jazz fusion ou encore l'electro se disputent les cordes de sa guitare. Collectionneur de Grammy Awards, figurant deux fois au Rock and Roll Hall of Fame, le remplaçant d'Eric Clapton au sein des Yardbirds offre à lui seul une histoire du rock, ayant partagé au gré de sa carrière son talent avec Jimmy Page, Brian Wilson, Rod Stewart, Mick Jagger, Roger Waters, Donovan, Cyndi Lauper, ZZ Top et autres Tina Turner. Un dernier nom pour la route ? Sa maîtrise du son a impressionné un certain Jimi Hendrix...
Après les deux albums enregistrés avec ses complices Alice Cooper et Joe Perry, «Hollywood Vampires» (2015) et «Rise» (2019), on aurait pu penser que Johnny Depp aurait eu envie de partir en solo et pourtant, c'est avec Jeff Beck qu'il va vivre sa prochaine aventure musicale. Autant dire que retrouver ce duo sur la grande scène du Chapiteau de Jazz in Marciac, et découvrir par la même occasion cet album dont la sortie est programmée en ce mois de juillet, nous donne d'ores et déjà des frissons !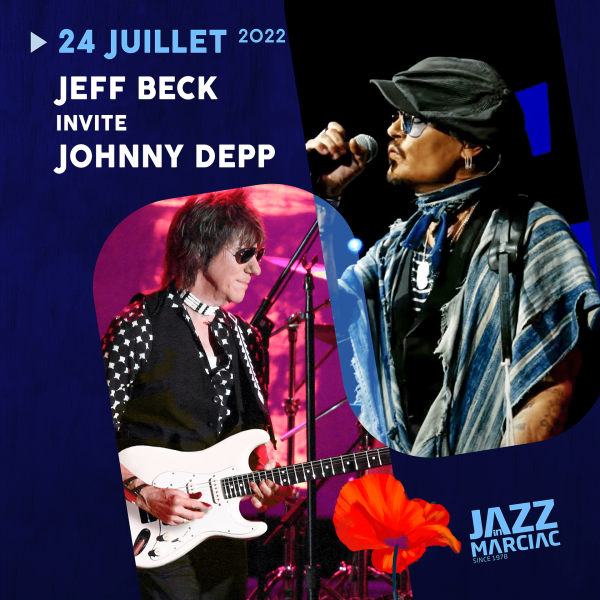 © Arkade