2023
July 20th > August 6th
Retour
Festival Bis : 20 juillet > 6 août 2023
D'accès gratuit, le festival Bis offre une programmation éclectique où se télescopent avec allégresse un jazz résolument moderne, ses musiques cousines et ses racines les plus vivantes (Jazz, New Orléans, Blues...), dans une ambiance conviviale.
Les concerts gratuits sur la place du village auront lieu du 20 juillet au 6 août ! À Marciac, on dit festival Bis, plutôt que Off, car la programmation musicale dont les festivaliers peuvent profiter gratuitement tous les jours de 11h30 à 19h fait partie intégrante du festival. Choisis par Jazz in Marciac, les artistes qui se succèdent sur cette scène en plein air représentent toutes les tendances du jazz et il n'est pas rare d'y découvrir des talents prometteurs. C'est ainsi qu'une certaine Youn Sun Nah a fait ses premiers pas sur une scène de festival européen en 2000, à Marciac, au festival Bis ! Il ne fait aucun doute que, cette année encore, des talents prometteurs réserveront aux spectateurs du Bis leur content d'émotions.

Jérôme Etcheberry Quintet / The Jazz Rebels Sextet / Gabrielle Randrian Koehlhoeffer Gasy Jazz Project feat. Lalatiana /  Naïma Quartet / Dexter Goldberg Trio / Back In Town / Asso Sax Big Band / Mississippian Big Bang / Adrien Chicot  / The Blakettes / Paris jazz Sessions Quintet / Pacific Jazz Ambassadors / Hancock en Stock / Time Is Color / Romain Vuillemin Quartet / Benjamin Dousteyssier Quartet / Noé Codjia & Neil Saidi Quintet / Gabe Zinq / Simon Chivallon Trio / Steeve Laffont Trio feat. Eliene Castillo / Influences Jazz Quintet / Back to Bix / Good Evening Mr Jack / La 45 Quintet / Old School Funky Family...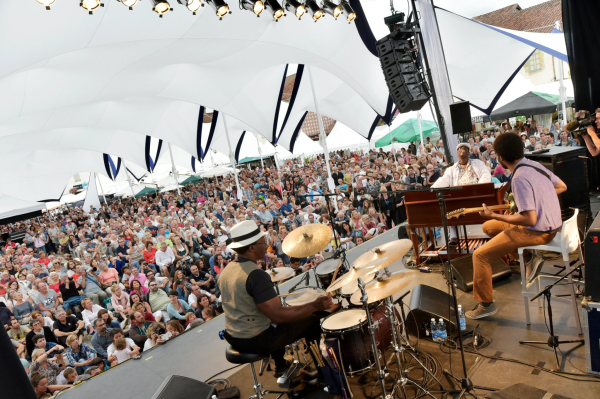 © Francis Vernhet