2023
July 20th > August 6th
Retour
Building Together
No, the point of the title is not to emphasize for the umpteenth time the importance of getting along or "living together" in society – a cause to which the attendees of Jazz in Marciac are already won over – but rather to get back to the roots of our project. Unimaginable, unforeseeable... When it comes to how stunned we were when the Covid-19 pandemic hit the world, it's all been said. But perhaps we have not sufficiently stressed how revealing the crisis proved to be in many areas. The Greek word krisis has many meanings, one of which is "the act of distinguishing". Thus, the cancellation of the 2020 edition of Jazz in Marciac highlighted what its audience had forgotten: despite 43 years' experience, holding a successful festival is an ongoing challenge. Its international renown might have led some to think that it all comes together with just a snap of the fingers, but it is an undertaking that is both complex and fragile. Each year, it requires us to defy complacency, work incessantly, and take real risks, none of which is obvious to observers. Basically, we embody the spirit of the artist whose relentless efforts are always hidden from the public eye. Except that there is not just one artist: with 40 administrators and 1,000 volunteers, Jazz in Marciac attests to the power of the individual when working in concert with others. That is one of the biggest lessons from the ongoing public health crisis and one that we should not forget. This group of passionate people works with all the more conviction and enthusiasm because our festival is so indisputably unique.

An outstanding slate of artists

Allow us to mention here just a few of its strengths, starting with the excellence of the featured artists. That excellence began in 1978, when the Foyer des Jeunes et de l'Éducation Populaire de Marciac hosted an evening of concerts to showcase clarinetist and saxophonist Claude Luter. It would take much too long to write out the names of all the stars to whom the baton was passed in subsequent editions but – just for fun – we'll mention Lionel Hampton, Dizzy Gillespie, Stan Getz, Oscar Peterson, the Modern Jazz Quartet, Norah Jones, Stéphane Grappelli, Ray Charles, Michel Petrucciani, Diana Krall, Sonny Rollins, Gerry Mulligan, Herbie Hancock, Keith Jarrett, Chick Corea, Ahmad Jamal, and of course, our sponsor, Wynton Marsalis. The programming was just as prestigious when Jazz in Marciac expanded to include adjacent musical genres like blues, R&B, world music, soul, Latin jazz, and even rock. Do you need some names to prove it? Buddy Guy, B.B. King, Lucky Peterson, Joe Cocker, Maceo Parker, Tito Puente, Irakere, Ray Barretto, Le Buena Vista Social Club, Manu Dibango, Ibrahim Maalouf… And the quest for quality carried over to the creation of Grands Événements Musicaux, which was our way of ensuring we would continue to surprise and avoid becoming too institutional. Santana, Joan Baez and Sting no less on the Marciac marquee, imagine that! And yet, suchestablished artists have never overshadowed the budding talents that Jazz in Marciac is proud to help nurture. Among the many examples we could name, the Korean singer Youn Sun Nah enchanted the crowd at the Bis festival, then became a stand-out at the Astrada in 2011, before officially arriving on the main stage in 2012. And it was on that same main stage where the now famous Roberto Fonseca debuted some extraordinary songs, as if to thank the festival for its role in his meteoric rise. In Marciac, we have never lost our taste for sowing the seeds of artistic talent. This is evidenced by the Introduction to Jazz Music workshops held at its middle school. This initiative began in 1993 and has enjoyed the unwavering supported of the festival. Its aim was not to train future professionals but to develop the values inherent in music, such as listening to others, respect, independence accompanied by a sense of belonging to a community… Still, we beam with pride when our former students, such as Émile Parisien or Leila Martial, establish their talent and make the case for jazz at the highest levels of excellence!

A popular event

The second strength of Jazz in Marciac can be summarized in a word that is often used pejoratively: popular. For us, it means "of the people" and is synonymous with solidarity, sharing, intermingling – all those values that promote social diversity and getting to know the Other – beyond our differences, or perhaps even because of them. What better musical form than jazz to embody such values? Stroll through the streets of Marciac in the summertime and you might happen upon a fabulous big band concert where people of all ages, all genders, all origins, all social categories become one. That diversity culminates in our walled village, opposite the Bis festival stage where all attendees have free access to concerts whose quality never falters. Here, we have always believed that the best things are built together. Sorry for our lack of modesty, but we have already demonstrated this. Our collective activism has transformed our most unrealistic dreams into a tangible result whose success is no longer in doubt. So much for the skeptics who think that "popular education" is an old-fashioned concept that should be relegated to the history books, alongside the Paid Leave Act of 1936. Our festival occupies a special place on the cultural events landscape because it is organized by enlightened, informed enthusiasts who continue to be a source of strength. We fully recognize the efficiency of the commercial outfits that run major events elsewhere, but the non-profit group that manages Jazz in Marciac certainly gives it more freedom. Boldness and imagination are encoded in our DNA. Emphasizing humanity does not prevent us from being professional; in fact it amplifies our professionalism.

A driver of regional development

Oh how it elevates our little town! Here is the festival's third strength: it has helped to transform Marciac over the years. Music's power of attraction has lasting effects. Delighted by the picturesque setting and our residents, tourists come back in other seasons beside summer, and some even decide to put down roots here. We are all-too-familiar with the devastating emptying out of rural villages. Not only has ours escaped the trend, but it has seen the opposite fate: our economy has grown, and our reputation radiates well beyond our borders. Shops, artisans, businesses, movie theatres, art galleries, vacation homes, hotels, guest rooms, restaurants open all year round, Territoires du Jazz – they all attest to an uncharacteristic vibrancy for a town whose population is just 1,300. And the outlying areas also benefit from the appeal of Marciac. On that note, we should not overlook the success of the L'Astrada venue. Jazz in Marciac is one of the rare festivals, if not the only one of this magnitude, that found a way to extend its musical reach by developing the notion of regional cultural projects in rural areas, For example, it convinced its public partners (national, regional and local governments) to create this performance hall and to set it up as a public facility for cultural cooperation ("EPCC") to ensure its ongoing viability. Other accomplishments relating to its historical heritage also speak to the vitality of Marciac. Consider, for example, the renovation of the portal at the Notre-Dame church, the restoration of the facade and the courtyard at the Augustinian Convent, the splendid sculptural mesh-work highlighting the structural elements of the cloister wing, and the future artist residential compound. Yet, as proud as we are to have been contributed to the energy coursing through our region, we will never lose sight of how much the region has given us. The riches of this place and its inhabitants inspire and nourish us each and every day. To sum it up in a phrase, you can only give what you receive.

And in conclusion...

Let us wrap up this overview by looking back in time. In the late 13th century, the royal walled village of Marciac was conceived as a socially, politically and economically attractive project to ensure the prosperity of its residents. Eight centuries later, the goal is unchanged but it is an entirely different kind of undertaking that makes it possible to achieve that goal. A constantly evolving project Under the banner "Marciac la créative" ("Marciac: Town of Creativity"), we are setting out to develop an ambitious program around our festival that draws on the assets we have here in our region. Your role is more essential than ever to ensure we succeed in our mission. The first step will be to ensure that the 2022 edition of our festival marks the return of JIM at the highest level of excellence. The festival's return will rely on actively involving all the friends of Marciac and pooling all our energy. Jazz is worth the effort… Supporting our festival means not just helping to build an exceptional cultural event, but also allowing an entire region to show the best it has to offer.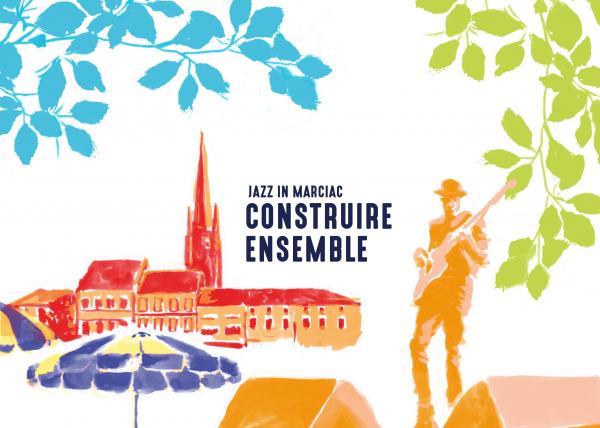 © Arkade